It's all about the power of your data…and we understand that.
Edge is a fully scaleable, web based e-learning platform and mobile app, complete with polling, program evaluation and outcomes management functionalities.
Our enhanced functionality collects, organizes and helps you to interpret performance and quality improvement programming, chart audits, clinical outcomes, live-polling response data, etc., alongside more standard program evaluations and self-reported behavior change.
Our system is compatible with both internal or external systems you might currently utilize to manage your programs – allowing data to be imported and exported for maximum effect.
We work directly with our clients to fit within your specific workflows ensuring Edge is the perfect fit for your organization.
---
Data Management and Reporting
OPTI Edge is a full function outcomes reporting database that brings mobile accessibility to your meetings, and extensive analytics to your program.
Edge provides powerful standard reports with drill-down capabilities covering all aspects of educational evaluations and outcomes. These reports enable users to quickly identify gaps, isolate trends and plan future programming
Our relational database can accommodate reporting on any of the areas below and more: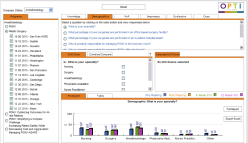 Program Evaluation Data
Therapeutic Area or Specialty Type
Pattern of Practice: Behavioral and Clinical
EMR Data
Attendee Demographics
Knowledge Retention
Commitment to Change
Barriers/Confidence/Competence
PI/QI Data
Case Studies
Chart Audits
Data Collection
Data can be collected using Edge Live Polling and custom survey features or can simply be imported from an external data collection source.
Data collected or imported from live polling or surveys are fed into the system real-time and can be  sorted by date, meeting name, location, therapeutic area, question type, etc.   Once you have populated your database reporting becomes simple.
Case Study Example 1:
Ms. Smith is a female aged 38 years
. She is scheduled for face lift surgery as ambulatory procedure
.  She has a previous history of PONV when she had a gynecological laparoscopy and a history of motion sickness
.  She is a non-smoker.

Question 1: 
 Which of the following antiemetic regimens would not be appropriate for the prevention of PONV in this patient?
The correct answer is metaclopramide.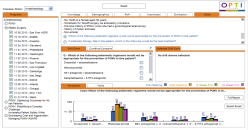 Although post-meeting response rates were good, there was a marked decline in knowledge retention by the 12 week assessment, suggesting reinforcement should be applied. 

Knowledge gain and retention was highly statistically significant post-meeting and at 6 weeks (p<0.001), but not significant at 12 weeks (p<1).
While just over half of participants provided the correct answer pre-meeting, almost one- fifth believed triple prophylaxis to be inappropriate for prevention of PONV. Again, the majority of those answering triple therapy
Case Study Example 2:
Question 2:  If antiemetic therapy fails in this patient, which of the following would be the best treatment? 

The correct answer is to give 5-HT3 plus droperidol, if not given prophylactically.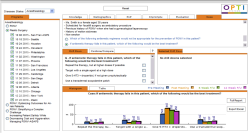 Only 47% of participants provided the correct response pre-meeting and only 80% were correct post-meeting, showing a possible lack of communication from the speaker.
This difference was statistically significant immediately post-meeting and at 6 weeks (p<0.001 and p<0.01, respectively).
Knowledge retention at 12 weeks remained unsatisfactory (change from pre-meeting not significant, p<1).
Of those who initially gave the correct response (47%), most were anesthesiologists.
We look forward to the opportunity to speak with you to help you unlock the power of your data!
---