Censeo Grant Management System is easy to use grant/request management software which automates the grant making process and aggregates outcomes data from grant recipients. We've built the system around four distinct modules that can be used separately or together.

Censeo is for…
Any organization that awards grants to individuals or organizations, such as:
Pharmaceutical Companies
Associations
Foundations
Non-Profits
Censeo is proven…
We've been in grants management for a long time. Censeo is the outcome of over a decade of refining and testing in real-world use. We've incorporated the features grants managers want, in an online application that you can use every day.
Customizable for most grant types
Extensive reporting
Automation of most frequent tasks
Elimination of paperwork and physical storage
Scalable and customizable
Full audit trails
Internal and external dashboard views
---
Censeo's Four Function Modules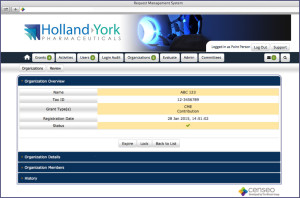 Function:
Complete management of the requestor/applicant registration process. Enables you to screen, approve and deny access of requestors to your grants application system.
Key Features:
Review and Approve Requestors
Manage, Store and Update Tax Documents
Manage User Communications
Assign and Manage Internal User Accounts
Assign and Manage Approval Committee and Voting Rules
Full Audit Trail
---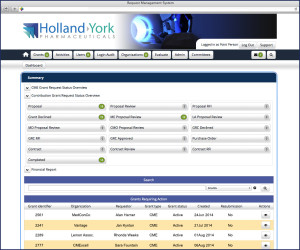 Function:
Allows for submission and review or grant applications using customizable forms across multiple grant types.
Key Features:
Facilitates Paperless Voting by All Committee Members or Voters
Generates Contracts and Grant Agreements Electronically
Tracking by Grant Status
Payment Tracking
Internal Budget Management
Digital Document Storage
Paperless Communication (e-mailing)
Management stored inside the system eliminating the need for other email clients and allowing all communications to be stored digitally in the system
Full Audit Trail
---

Function:
Paperless, Automated Grant Reconciliation Process.
Key Features:
Full Budget Reconciliation Functionality
Variation Analysis
Collect information on the success of a grant
~ number of attendees
~ start dates
~ finish dates
~ executive summary report upload, etc.
---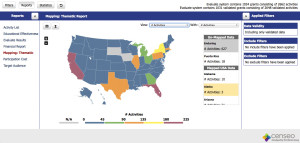 Function:
Extensive real-time reporting.
Key Features:
Financials
Demographics
Outstanding or overdue items
Geographical analysis, etc
Exportable reports in many formats
---